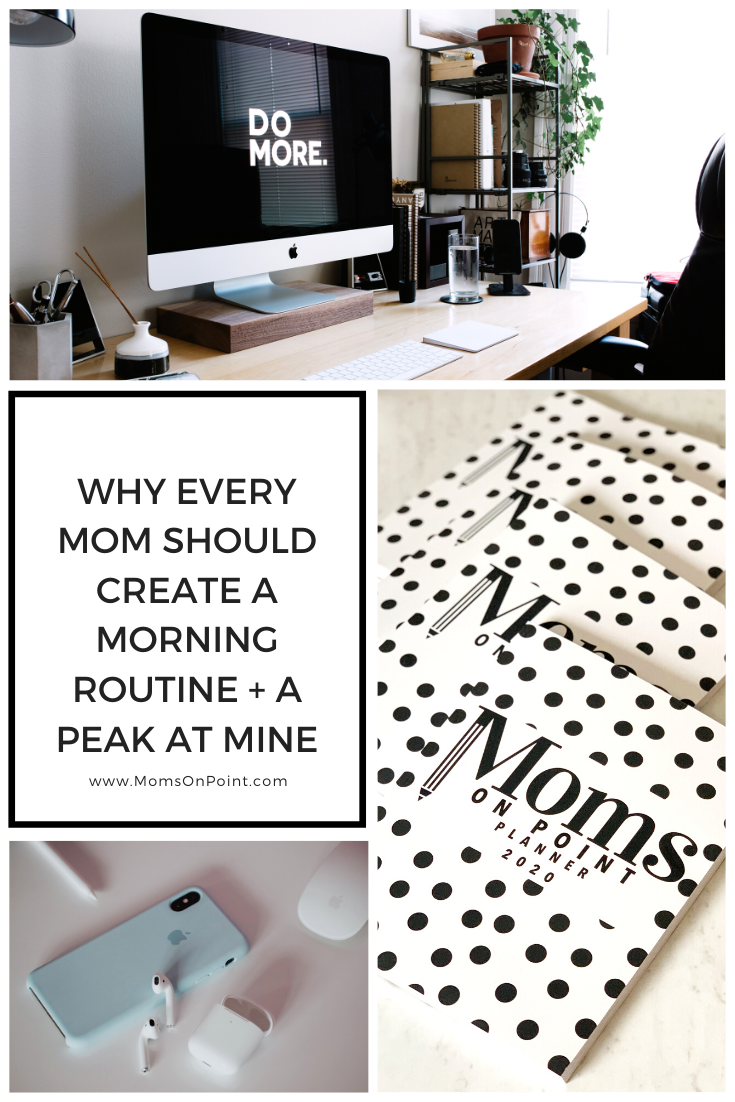 Starting your day with intention is so important. It's so easy to let the day get away without accomplishing things that you need and want to get done. Having a morning routine is the best way that I've found to get things done, and as a mom, that's very important. Why should you create a morning routine for yourself? When you're a mom, the likelihood of you having free time to yourself (after your kids are awake) is slim. Let's get into how to create a morning routine…
Creating your morning routine is a simple process…
Figure out what you want to get done, that you can't get done when you're caring for others
Set a time for your morning routine to start: I say start at least a half hour before anyone else in your house wakes up – this will depend on what you want to get done
Write out your routine with the estimated time it will take you to do each task 
Set your alarm 
Wake Up
Run through the routine
Evaluate your routine to see if you're getting up early enough to accomplish your routine or alter the routine to fit the time that you have
Enjoy your new secret weapon at getting things done and taking care of yourself 
My Morning Routine
My children wake up at 7 AM, so to get everything done in my morning routine, I set my alarm for 5:45 AM.
5:40 AM Wake Up + Stretch
5:45 AM Meditate 
5:55 AM Bathroom business + read bible 
6:05 AM Take Shower + Brush Teeth
6:20 AM Lotion + Get dressed  
6:30 AM Make Bed
6:35 AM Listen to radio/Play a game on my phone 
6:45 AM Make my lunch
6:55 AM Start Breakfast 
Some things that you could include in your morning routine are:
Exercise
Read a book
Listen to an audio book
Work on a hobby
Work on your business
Write in/update your planner 
Online shopping 
Cleaning 
Drink tea/coffee
Watch the news
Clean out your purse
Since I do believe in creating morning routines to become your most productive self, I included a section at the beginning of each month in the Moms on Point Planner, that lets you outline your morning routine for that month. Enter your name and email address below to download a copy of the December 2019 Moms on Point Planner. Once printed you can input your morning routine for the month. You can also start preparing for 2020 by purchasing the 2020 Moms on Point Planner from Amazon (affiliate link). If you already have a morning routine, what's in yours?